Mini photo album of Polish People's Republic
---
For a long time I've have been considering about publishing of picture postcards and photographs of objects from times of PPR (abrev. in Polish - PRL). PPR means Polish People's Republic. Taking it conventionally it existed between 1944 and 1989. There are plenty of www sites about PPR in internet now. For example Internet Museum of People's Poland (in Polish Internetowe Muzeum Polski Ludowej) but their content and essense is not satisfactory. I've got the impression that almost all of them do not want to render PPR memorable for generations which had no chance to experience life in that times but want to ridicule it. Not rarely content with commentary provided is so biased that it serves the author for venting frustration, anger, dislike, hate suffered from PPR.

They show old, tarnished, deteriorated, faded away stuff suggesting they have looked like it when they are new. I've talked to many friends on this subject who remember those times as I do. Such unfair presentation seen on the other sites makes me offended. It touches deeply sense of fairness and honesty my and of my friends. So I've hit on the idea to show the other side of this issue. Unfortunately I don't have adequate equipment. I don't have neither scanner nor digital camera. Given low quality photographs were taken with SVHS-C camcorder and transfered to computer with tv-card. Some photoshoots were emailed to me from other people, some were found in internet.

Polish edition of this album will make (I hope) a better knowledge of Polish People's Republic among the Polish youth who has been indoctrinated on new way since "the fall of communism" in 1989.

English edition is made especially for Americans who actually don't have any knowledge on these issues.
Polish People's Republic was reproached for sloppiness, dirty run-down squares and buildings. Critics neglect the fact that these phenomena occur in all nations on the whole world with varying intensity. They occur even in developed countries such as United States (see shanty towns for Blacks). In PPR there were decrepit houses and new-built well groomed ones alike. Here are some examples.
On the left picture you can see a part of old historic marketplace in Nysa (pron. "neesa" with s in the middle). It seems to be rather groomed. It's also hard to see scattered litters. Foreigners must know that Nysa has been heavily bombed during WW II. After war it has been completely rebuilt. (Picture by A. Zborski, National Publishing Agency)

Next picture depicts seaside boardwalk in Swinoujscie (pron. "shfeenoushtheh") (Picture by J. Hattowski, National Publishing Agency)

One would say that those places are widely known to the public and that's why they have obtained special treat by governemnt to support socialist party's propaganda. Well, it's not like it at all. I have picture postcards of the place where I brought up. The place is a small town of twenty thousands inhabitants. This kind of spot is typical and widespread in Poland.


(Picture by K. Jabłoński, National Publishing Agency) First photo depicts central square of Tadeusz Kosciuszko in Radzionkow (pron. "radgonkoof"). Now it looks completely different. Even a name was changed to Letochow' Square (pren. Le'tohoof). In the years 1974-1998 Radzionkow was district of the large city in Silesia - Bytom (pron. Beethom).
This is another place where it is hard to find shattered pavements, empty flower beds. In the distance we see large department store Hermes - famous in region for its good delivery in those days. Nowadays it has been replaced by other chain market store.

On the second (bottom) picture we see community centre house where formerly were library, cinema, gymnasium, dancing room, sport classrooms, restaurant-cafe etc. There used to function there interest circles and associations such as National Defense League (Polish abbr. LOK), Polish Tourists' and Countrylovers' Society (PTTK), Nature Preservation League (LOP), scout movement. There were organized sport and art events, dance teaching etc.

(Picture by J. Tyminski, National Publishing Agency). Photoshoot shows the same community centre but the other side. View on cafe-restaurant "Iris".

And now for a change I've got some photos of everyday-use stuff. I used to talk to schoolgirls and schoolboys about PPR now and again. In most of their opinion PPR seems to be a ghastly "black hole". They think that there was not possible to buy anything. Even if you managed to do so you did it with friends' help or "under" counter and in all circumstances only some dilapidated trash. Yet reality was quite different. It is true that market offer was much more modest than nowadays and commodities had simple industrial design, brown or gray coloured packaging. That situation had manifold reasons. One of them was lack of competition between enterprises resulting in lack of promotion; package was not an advertising and merchandise played useable role only. Hammer was designed and expected to be used to drive nails and not to be an ad-stuff on a shop-window. Because of current situation the youth has to got twisted gaze on socialist Poland. Nowadays they buy in big chain department stores cheap but nice and shiny trash which falls apart after few months of usage. What can they say about goods having austere design? According to logic "nice equals durable and useful" ultimately they have to come to conclusion that socialist merchandise were totally useless. And what was the truth in real life?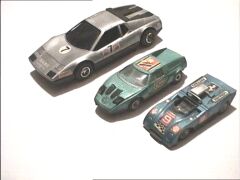 On this photo we can see toys which I used to play with in my childhood for relatively long time. The green one in the middle I was given for Christmas before I began to attend to primary school. So it must had to be before 1981. I know from some sourcers that no one of them was bought in Pewex (some sort of schop selling imported goods from the West where you paid in foreign currency - with US Dollars). Apparently such toys were not rarity. Almost all of us had toy blocks (resembling LEGO well-known in the West), toy soldiers, teddy bears, dolls and some of us had even remote controlled models. Some friends of mine played with real suspenion spring toy cars (metal made). My toys were plastic. Some of my friends had radio remote controlled car models, some of them railways (railroads). I have never had such kind of toys because my parents couldn't afford them. It's worth to notice that my "socialist" toys don't differ much from modern available in the bottom-price market.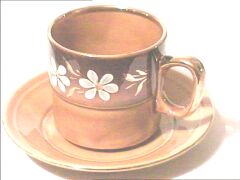 Now we can see pottery. This cup was used mainly by visitors or for the ceremonies, holidays. Daily we used glass (engraved or not). It doesn't change the fact in anyway that in socialist Poland in common use were nice and practical consumer goods. This fact doesn't fit to widely-spread views that in "communist" Poland were available vinegar and matches only.

There was much talk about lousy, breaking up books. Well, you got it what and how you care.
Both booklets were published in PPR. Fishes in 1977, Mushrooms in 1982. This white glow on covers is light reflected on varnished hard surfaces of covers.

Here we seen piece of colourful illustration from the book "Fishes and baits"

And here is another illustration from "Mushrooms"

Here is somewhat newer edition from 1987. Set of historical books "History of the Polish Nation and State". Once more white gloom comes from light reflection on high quality coated paper.

For some time I wondered should I publish pictures of imported goods being available in Pewex, Baltona and some other stores. Finally, I settled on publishing them. There is no substantial reason to reject these goods since they were available in Polish shops despite of the fact that they're produced abroad.


This picture shows foreign tape cassettes from lat 80's being sold in chain stores of Bajtek (in rough translation it means Byter) available in Polish currency Zloty and in Pewex for US $.

On the right side we can see one of numerous models of radio cassette recorders made by Polish factory of electronic equipment UNITRA. Model on photo it is GRUNDIG RB3200 AUTOMATIC.

On consecutive photographs you can see example products of industry of means for hygiene. First photo presents soaps Zefir, Lotos i Parys. Second picture shows brand I remember though I can't determine exact name. Thrid one shows widely know soap "FA". This FA soap was available everywhere in shops and even advertised on tv before a bedtime TV cartoon for children by child band "Fasolki" ("Beans")


Picture shows box of cigarettes (1989) well known in Poland even to non-smokers till now. Of course, this brand was not the only one. There were other brands, but this one probably was one of the most popular.


Do I have to explain everything?
That's all for now

Issued on home page: 22th November 2003
Last update: 12th March 2004
English translation: 18th April 2005